Wang Ruo Bing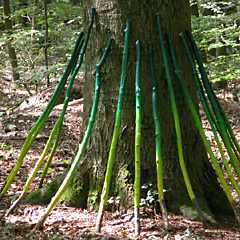 Wang Ruo Bing has been creating artwork relating to environmental problems for the past five years. she has been participating many exhibitions in Singapore and other art activities in Canada and Finland.

2004 / Singapore / 7 min
Civilization is a race between education and catastrophe.
First Take, happening every first Tuesday of the month at The Substation, is a platform for new filmmakers and anyone who is interested in filmmaking to meet, exchange ideas and show their work.
Breathe (Wang Ruo Bing) S$5.00

Creativity, Processes, Approaches - features Lim Soon Ngee and Wang Ruo Bing
HOPEA SANGAL TREE LIVES ON AT SINGAPORE ZOO
Conservation takes on another dimension at the Singapore Zoo. With its parent company, Wildlife Reserves Singapore (WRS), adopting the Hopea sangal Tree art display created by the Sculpture Society, the Zoo also takes on a further educational role – this time as a reminder of what we could and should do to help save nature.
In collaboration with the Hopea sangal Committee (comprising the National Parks Board, Sculpture Society, Nature Society Singapore, Urban Redevelopment Authority and National University of Singapore's Raffles Museum of Biodiversity Research), WRS is seeking to conserve Singapore's natural heritage with the adoption of the Hopea sangal Tree art display at the Singapore Zoo and planting of a Hopea sangal Tree seedling.
Created by nine sculptors, these sculptures and carvings reflect the Hopea sangal Tree's 150 years of history in the Changi area, and the different faces of Singapore in the same period. They will be on display at the Singapore Zoo's Restaurants in the Wild.
"Our mission is to preserve biodiversity and to undertake public education, research and collaboration as well as maintain and update the exhibits in all our parks in the most humane, naturalistic and yet efficient manner. We are honoured to have the opportunity to display the Hopea sangal Tree art here at the Singapore Zoo so that visitors can appreciate the artistic transformation of this endangered species.
"With the planting of the seedling, we hope that over the next 150 years, the Hopea sangal Tree will grow to its majestic height of 35m, giving future generations the opportunity to appreciate a 'live' Hopea sangal Tree," said Dr Ho Yew Kee, Deputy Chief Executive Officer, Wildlife Reserves Singapore.

The Artists:
Baet Yeok Kuan
Chang Wei
Chiew Sien Kuan
Chua Boon Kee
Collin Sai Hua Kuan
Lin Jing Xin
Lim Soon Ngee
Michael Ong Chu Kheng
Wang Ruo Bing
Zainudin Samsuri