Hazel Leong : GOSSIP - Their Eyes Are Watching
June 19th - July 1st, 2003

Supported by NATIONAL ARTS COUNCIL Singapore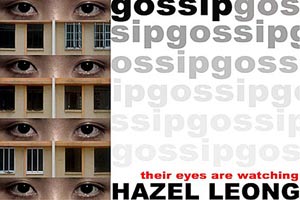 Orita.Sinclair.Int'l - Front.Room

.Gallery

is proud to present GOSSIP : Their Eyes Are Watching by young New Media Artist, Hazel Leong.

Ms Leong's concept for her interactive art work originates from her personal experience of having lived in a Housing Development Board (HDB) flat for the past twenty three years. Her work is a study of the women who gather daily to watch and gossip about the people who walk by.

In Gossip the viewers become immediately involved and play the role of the passer by. With 'eyes' watching and whispers at every move, the viewer will begin to feel disturbed and uncomfortable very quickly, especially when it becomes obvious that the gossip is malicious and becomes louder as backs are turned. Women who have perhaps too much time on their hands and who may even be jealous of those who have a 'little' more enjoyment out of life have their eyes displayed on monitors. While their eyes follow the viewers every move, their gossip can be heard.

The stage is set with only the movement of eyes as visuals and voices. Together with the visuals and sound, Ms Leong integrates the use of technology to complete the stage. Ms Leong's art is successful in creating an interactive environment especially when it requires and depends on the audience's participation.


The Artist
Ms Hazel Leong is one of Singapore's budding new media artists. A Bachelor of Art graduate in Multimedia Art from The Birmingham Institute of Art & Design at the University of Central England, she intends to pursue passion for art and develop her career as a New Media Artist.

Their Eyes Are Watching is the first solo exhibition by Ms Hazel Leong.