Cheong Soo Pieng
1917 - 1983

Born in 1917 in China, Cheong Soo Pieng studied art at Xiamen Academy of Art and attended the Xin Hua Art Academy in Shanghai. He moved to Singapore in 1946, where he taught at the Nanyang Academy Of Fine Arts from 1847 to 1961.
Art historians classify his prolific output into 'phases of experimentation'. These phases were: oil in impasto effects (1948-1956); Chinese ink on nice Paper (1960 - 1963); oil with new effects (1963 - 68); abstraction (1968 to 1970); mixed sculptures and porcelain work (1970 -79); oil with new effects (1979); Chinese ink with new effects (1979); painting on tiles and porcelain (1982 - 1983); and Chinese traditional medium on cotton. He was an experimenter and his inventive streak developed into a distinctive visual style which influenced other contemporary artists. In 1962, the Government of Singapore awarded Cheong Soo Pieng the Meritorious Service Medal. He passed away in 1983.

1917: Born in Fujian, China.
1933 ­ 35: Studied under Lim Hak Tai @ Amoy Art Academy and the Sin Hua Art Academy, Shanghai
1936: Outbreak of the Sino-Japanese War ended his formal studies
1946: Came to Sąpore, taught at the NAFA and Chinese High until 1961. By the time he settled in Singapore, he was already an accomplished artist, proficient with the methods and materials of ink painting.
1952: 5 fruitful months in Bali with the other 3 pioneer artists. He also visited and worked in Sarawak in 1959, and in 1961, in Sabah.
1961: Travelled to Europe on an educational tour to familiarize himself with contemporary art. spent 2 years exploring Europe and held 2 successful shows in London and Munich
1962: Awarded the Meritorious Service Medal by the government.
Held 18 one-man exhibitions in Sąpore, Malaysia, Hong Kong, Taiwan, England, Germany, France and Australia

Family
Cheong Soo Pieng has been a dominant influence on the development of modern art in Singapore. Best known for his Balinese series of paintings, he also developed a distinctive style of painting Balinese women which strongly influenced the subsequent generation of artists.

Harbor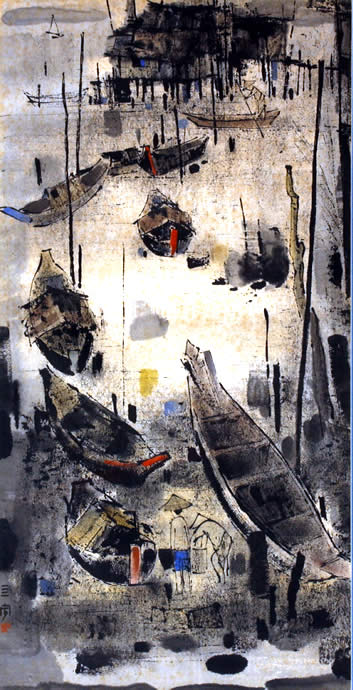 Along the beach
Abstract (1965)
...Always one to bridge the gaps between Asian and Western art, Cheong Soo Pieng has emerged as one of the most influential artists to come out of South East Asia in the latter part of the 20th Century. Cheong's infinite enthusiasm for exploring new styles and avenues in art has led him to move from style to style in rapid succession during his prolific career. From the 50s to 80s, he has challenged young artists with his versatility and innovation, dabbling in all mediums from painting, to ceramics, to sculpture; and always excelling in each. Through the long extent of his career, Cheong was most interested in the sense of design and composition of a piece, making use of angular forms, and utilising a bold colour scheme. Despite the willingness to experiment with anything and everything, these were the three principles he was unwilling to compromise. The period between 1948 to 1959 saw Cheong experiment with oil in impasto effects. Influenced by post-war Western artists, his paintings of this time inevitably possessed a raw, stripped down effect that hinted at three-dimensionality...

Source: excerpt from Christie's catalog